Purim
---
In response to the notice sent out by San Francisco's Health Officials — "To reduce the spread of COVID-19, cancel all non-essential community events for the next two weeks" — we are saddened to inform you we must cancel our annual Gender Schmear Party scheduled for this evening, Saturday, March 7 – 9:30pm at Oasis.
Please look out for additional communications from the Rabbi and our office about our future events. If you have any questions about this event cancellation, please contact heidy@shaarzahav.org.

Thank you for understanding. We hope to celebrate Purim with you next year!
Gender Schmear Purim Party
Saturday, March 7 @ 9:30pm-1:00am
Location: Oasis Nightclub, 298 11th St, San Francisco, 94103
Special performance by the Sisters of Perpetual Indulgence at 10:30pm in the Fez Room
GET TICKETS NOW($10)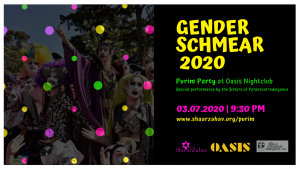 ---
Erev Purim Events are CANCELLED
In response to new recommendations from the SF Department of Public Health asking organizations to cancel non-essential events for the next two weeks in an effort to contain the spread of COVID-19, Sha'ar Zahav is cancelling our Purim events scheduled for Monday, March 9.  For more information, contact education@shaarzahav.org.
In the week ahead, we will be making decisions regarding other Sha'ar Zahav events including regular services and Beit Sefer. Look for updates in next week's newsletter.
Meanwhile, you can use these resources to …
Celebrate Purim! @ Home
Tuesday, March 10
It's the Purim Story in 4 minutes from
Bim Bam
.
PJ Library
has lots of Purim mitzvot, books and ideas for kids.
18 Doors
has Purim learning and family stories.
Community Purim Celebration
Monday, March 9 @ 5:30-9:00pm
Location: Sha'ar Zahav, 290 Dolores St. San Francisco, 94103
RSVP Click Here // Facebook Event Page
5:30-6:30 pm
Baking Hamantaschen
Mask Maker Adventure
Dress Up & Make Up
6:00-6:30 pm
6:30-6:50 pm
7:00-7:45 pm
Purim Service & Megillah Reading
8:00-9:00 pm
Drag Bingo Party with Cocktails and Special Guests, Sisters of Perpetual Indulgence