Religious School
2018-2019 School Year Update: We're so excited to announce our new Director of Education, Sue Bojdak!
Scroll down to learn more about Sue or you can learn more about her in the "Our Staff" section of our website.
---
Sha'ar Zahav offers families an innovative education program that emphasizes the positive power of diversity and affirms the special worth of every person and every family.  Our school's first teacher, Phyllis Mintzer (z''l), believed that every person and every word contained sparks of holiness. Beit Sefer Phyllis Mintzer (BSPM — beit sefer means school) is guided by her spirit.
Because we believe that our community is strengthened when we bring our full selves to everything we do, we integrate our children's education into the mainstream of synagogue life. We say that the children of the synagogue are all our children, and we encourage adults — both parents and those who are not parents — to participate in the classroom.  
Weekly, we provide children K-7th grade with a Jewish education that includes Torah, ethics, ritual, Hebrew, history and Israel with an emphasis on Jewish diversity and social justice in an LGBT/queer-positive community.
We would like our school to be accessible to those with chemical sensitivities and allergies, and therefore support a Fragrance-Free Environment.
If you're interested in learning more about the school, please contact Sue Bojdak at education@shaarzahav.org.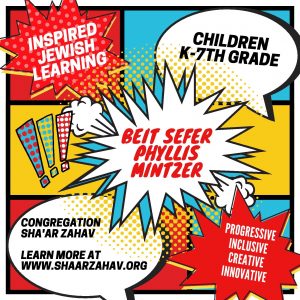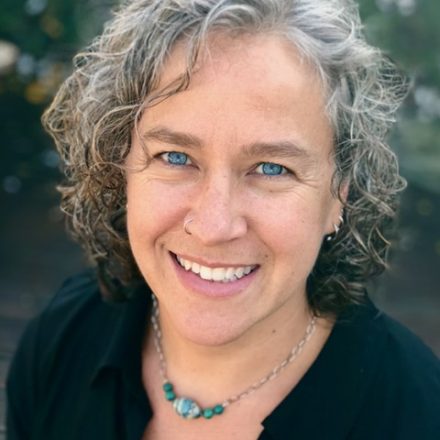 Director of Education
Sue Bojdak
Sue Bojdak has been part of the Sha'ar Zahav community since she moved to the Bay Area in 1995.  Sue served as the Director of Education from 2001 until 2006, during which time Beit Sefer Phyllis Mintzer was redesigned and renamed.  Sue is delighted to return to the role in 2018 after serving as the Director of Education for the intervening 12 years at Temple Sinai – Oakland.  Sue is originally from Rochester NY.  She holds a BA in Religious Studies from SUNY Stony Brook and an MA in Divinity from the University of Chicago.  Sue studied Adult Education at SF State, is a Union for Reform Judaism Outreach Fellow, has been learning with the Mandel Teacher Educator Institute (a national training program for Jewish educators) since 2006 and is currently a fellow with the Fellowship in Applied Jewish Wisdom at the Jewish Theological Seminary.  Sue has been working in Jewish education since 1998; she's worked with kids, teens, adults and families.  Sue is particularly interested in creative, inclusive and out-of-the-box learning models.  Sue believes in the transformative power of Jewish communal life.  And, in the words of the prophet Micah, she strives daily to "do justice, love chesed/lovingkindness, and walk humbly with our God."  Sue lives in Berkeley with her partner, Dana Sheanin, their four teenagers and two kittens.
Contact Sue at education@shaarzahav.org